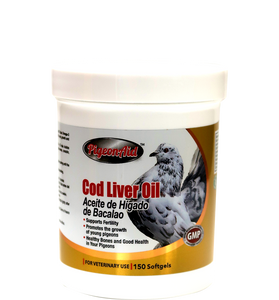 Cod Liver Oil Pigeons
150 softgels
Healthy growth & plumage in pigeons
Product Description:

An Excellent source of Vitamins A and D plus Omega-3 fatty acids to support skin, plumage, joints, heart, brain, eyes, growth and reproduction for young, racing or breeding  pigeons.
Benefits of Cod Liver Oil for Pigeons:
Fertility support.
Strong Bones
Healthy growth in young Pigeons
Healthy plumage
Directions for Use:
In the breeding period: Feed daily from 8 days before pairing until the second egg is laid.
During the racing season: The last 3 days before basketing.
Young growing pigeons: Feed twice a week
Supplement FactsOne (1) soft gel capsule provides:

| | |
| --- | --- |
| Cod liver oil | 400 mg |
| Vitamin A | 1,250 IU |
| Vitamin D | 135 IU |
| Omega 3 (EPA) | 34 mg |
| Omega 3 (DHA) | 32 mg |
*For animal consumption only. Follow label instructions. Do not exceed suggested dosage. Not meant to treat or cure illnesses. Consult with a veterinarian before using this product, in case of pre-existing conditions or using in addition to other supplements to avoid overdose.
---
We Also Recommend