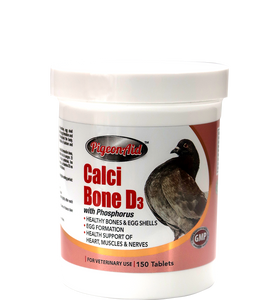 Calci Bone D3 Pigeons
150 tablets
For strong bones & skeletal structure in Pigeons
Product Description:
Calcibone D3 promotes strong bone formation, egg shell production, healthy blood clotting and more. Enriched with Phosphorus, Hydrolyzed Collagen, Copper, Zinc & Magnesium for promoting a healthy heart, muscles and nervous system. Phosphorus is important in many body functions including acid-base balance, metabolism of fat and carbohydrates, and in the proteins, carbohydrates and lipids used throughout the body while Vitamin-D3 is essential in the absorption of calcium and phosphorus in the body. Can be used for Fancy pigeons or show birds and racing pigeons. 
Benefits of Calci Bone D3 for Pigeons:
For strong bones & egg shells.
Enriched with Phosphorus for healthy egg formation.
Supports heart, muscles & nerves.
Excellent for Breeding & Molting pigeons 
Directions for Use:
Preventative dosage: Feed 1 tablet 3 times a week.
During mating period: Feed 1 tablet daily
Supplement Facts
One (1) chewable tablet contains:
| | |
| --- | --- |
| Calcium | 142 mg |
| Hydrolyzed collagen | 10 mg |
| Phosphorus | 22 mg |
| Vitamin D3 | 50 IU |
| Zinc | 50 mcg |
| Copper | 20 mcg |
| Magnesium | 5 mcg |
*For animal consumption only. Follow label instructions. Do not exceed suggested dosage. Not meant to treat or cure illnesses. Consult with a veterinarian before using this product, in case of pre-existing conditions or using in addition to other supplements to avoid overdose.
---
We Also Recommend