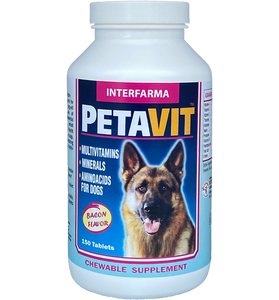 PetaVit
150 chewable tablets
Multivitamin, Minerals and Amino acids for large dogs 
Product Description:
PETAVIT chewable tablets  provides Vitamins, Minerals and Amino acids is an excellent nutritional supplement for dogs. From promoting healthy growth in young dogs to providing a wide variety of nutrients to active adult dogs, older or debilitated dogs and to pregnant and lactating female dogs.
Product Features & Benefits:
Provides Vitamins, Minerals, and Amino acids that promote excellent results for growing young dogs.
Great for active or working dog breeds.
Safe for pregnant and lactating females.
Safe for older or debilitated dogs.
Yummy Chew-able tablet, your dog will think it's a treat!
Directions for use:
Puppies under 10 lbs: Feed ½ tablet per day
Dogs between 10- 35 lbs: Feed 1 tablet per day
Large dog breeds over 60 lbs: Feed 1 to 2 tablets per day
For animal consumption only. Follow label instructions. Not meant to treat or cure illnesses. Consult with a veterinarian in case of pre-existing conditions or if pet is currently under medical treatment.
Supplement Facts
One (1) chewable tablet provides:
| | |
| --- | --- |
| Vitamin A | 1,500 IU |
| Vitamin D | 150,000 IU |
| Vitamin E | 2.00 IU |
| Thiamin | 1.00 mg |
| Riboflavin | 1.00 mg |
| Niacin | 10.00 mg |
| Pyrodoxin | 0.10 mg |
| Vitamin B12 | 3.00 mcg |
| Pantothenic Acid | 0.05 mg |
| Folic Acid | 0.05 ,g |
| Choline | 15.00 mg |
| Calcium | 100.00 mg |
| Phosphorus | 77.29 mg |
| Iron | 100.00 mg |
| Copper | 0.375 mcg |
| Cobalt | 0.125 mg |
| Iodine | 0.50 mg |
| Zinc | 1.00 mg |
| Manganese | 1.00 mg |
| Dry liver powder | 200.00 mg |
| DL-Methionine | 15.00 mg |
| Strearic Acid | 46 mg |
---
We Also Recommend