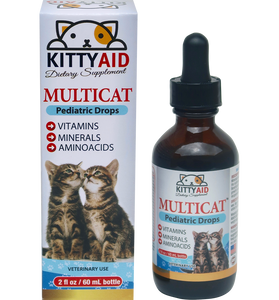 Multicat
2 oz
Multivitamins, Minerals & Amino acids for Kittens & Adult Cats

Product Description:

It's important to have a good balance of nutrients to keep your kitten happy and healthy so it can have the energy to learn and play.
MULTICAT liquid supplement for Kittens and Cats is formulated with over 12 Vitamins like Vitamin A, D, E, B-12, B-1 plus Minerals like Calcium, Iron and Phosphorus  and Amino acids like Lysine & Methionine . It provides the nutritional support for healthy growth and development in kittens.  Kittens, Adult Cats and Senior cats can all benefit from the many nutrients MULTICAT supplement provides
Benefits of Multicat:
Excellent for senior cats.
Orange flavor your cat will enjoy
Promotes healthy growth and development in young cats.
Helps in the recuperation of injured or sick cats.
Great for finicky eaters 
Directions for use:
Given orally: May be fed directly from the dropper, added to drinking water or mixed with food.
Weaning kittens: ½ dropper daily
Adult cats: One (1)  full dropper per 5 lbs of body weight daily
*For animal consumption only. Follow label instructions. Do not exceed suggested dosage. Not meant to treat or cure illnesses. Consult with a veterinarian before using this product, in case of pre-existing conditions or using in addition to other supplements to avoid overdose.
Supplement Facts:
Guaranteed Analysis: per 1 mL
| | |
| --- | --- |
| Vitamin A | 1000 IU |
| Vitamin D | 133.3 IU |
| Vitamin E | 1.33 IU |
| Vitamin B12 | 5.0 mcg |
| Vitamin B1 | 1.33 mg |
| Vitamin B2 | 1.0 mg |
| Vitamin B6 | 333 mcg |
| Vitamin K | 0.93 mcg |
| Folic acid | 333 mcg |
| Pantothenic acid | 2.0 mg |
| Biotin | 2.0 mcg |
| Choline | 7.3 mg |
| Calcium | 1.0 mg |
| Phosphorus | 0.3 mg |
| Iron | 11.7 mg |
| Copper | 1.3 mg |
| Potassium | 3.7 mg |
| Magnesium | 0.8 mg |
| Manganese | 1.7 mg |
| Zinc | 4.2 mg |
| L-Lysine | 2.5 mg |
| L-Methionine | 0.8 mg |
---
We Also Recommend