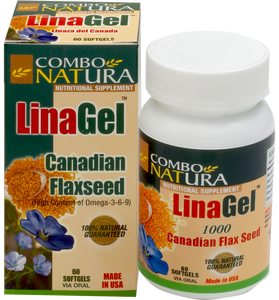 Linagel 1000
60 softgels
Plant based Omega 3,6,9 soft gel 
Product Description:
The Flax plant, Linum usitatissimum, is cultivated  for its nutritious seeds called flaxseed or linseed, from which linseed oil is obtained.  Linseed oil is an excellent source of Omega 3,6,9 fatty acids which are vital to a person's physical and mental health.The Canadian flaxseed (linseed oil) found in LinaGel 1000 provides large amounts of Omega 3, 6, 9 in one soft gel capsule. Naturopaths and Homeopaths use it for circulatory diseases, diabetes, and healthy weight loss.*
Omega-3 and Omega-6  are essential fatty acids, meaning that your body can't make it, so you must get it from its consumption.
Benefits of Linagel 1000:
Soft gel for faster absorption in the body

Heart health

Beneficial for people with diabetes

Derived from the Flax plant
Gluten Free
Directions for Use:
Take two soft gels daily, one in the morning and one at night. Preferably with meals.
Supplement Facts
Serving size: 1 Soft gel
Servings Per Container: 60
One (1) soft gel capsule provides:
Flax seed oil

1000 mg

which contains:

Omega 3  Alpha-linolenic acid

450 mg

Omega 6 Linoleic acid

110 mg

Omega 9 Oleic acid

110 mg
Caution:If you are pregnant, nursing, taking any medications or have a medical condition please consult your healthcare professional before taking any dietary supplement. Keep out of reach of children. Do not exceed the recommended suggested serving size. 
*These statements have not been evaluated by the Food and Drug Administration. This product is not intended to diagnose, treat, cure or prevent any disease
---
We Also Recommend