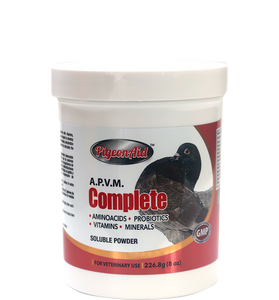 A.P.V.M. Complete
8 oz
Complete supplement for Pigeons

Product Description:
A.P.V.M. Complete is specially balanced with vitamins, minerals, amino acids, and electrolytes which pigeons require for optimal health.
Helps sick pigeons to recover from avitaminosis (vitamin deficiency), dehydration and stress.
Enriched with probiotics to stimulate the immune system, appetite, and growth.
Benefits of A.P.V.M Complete:
Amino Acids for Muscle Building
Probiotics for Absorption of Nutrients and Gastro Intestinal health
Vitamins to Supplement Feed
Minerals to ensure Healthy Growth
Enriched with Vitamin A, C, D3, B12, Biotin, Calcium and Folic acid.
Helps to growth healthy and active birds.
Directions for Use:
Mix 2 teaspoons measure with 2 gallons of water
For sick pigeons: Mix 3 teaspoons of measure in 2 gallons of water.
Formula:
Vitamin A
12,000,000 IU
Vitamin D3
1,600,000 IU
Vitamin E
7,000 IU
Vitamin B12
10 mg
Niacinamide
22,000 mg
Calcium Pantothenate
10,000 mg
Lysine
15,000 mg
Riboflavin
4,200 mg
Magnesium, Sodium, Potassium
Chloride. (Each as minimum)
3,000 mg
Biotin
30 mg
Vitamin C
20,000 mg
Folic acid
700 mg
Pyridoxine
2,000 mg
Thiamine
2,000 mg
Vitamin K (MSBC)
3,000 mg
Methionine
15,000 mg
PROBIOTICS: 5 billion colonies / units per pound of the following organisms. Lactobacillus Acidophilus, Casei and Lactis. Bifidobacterium Bifidum.
For animal consumption only. Follow label instructions. Not meant to cure illnesses. Talk to your veterinarian in case of pre-existing conditions.
---
We Also Recommend