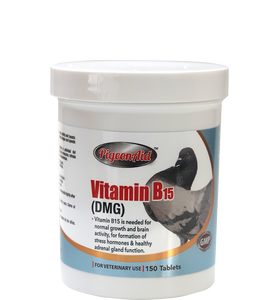 Vitamin B15 (DMG)
150 tablets
Performance Enhancer in pigeons
Product Description:
Vitamin B15 stimulates brain activity, helps adrenal gland function and boosts alertness in pigeons. It tones muscles, delays fatigue and speeds recovery after a competition.
Benefits of Vitamin B15 (DMG) for Pigeons:
Prevent Muscle Fatigue
Improve Endurance
Antioxidant
Performance Enhancer
Directions for Use:
Feed orally:
One (1) tablet per day, 5 to 6 days before competitions.
One (1) tablet daily after the competition.
Supplement Facts
One (1) tablet provides:

| | |
| --- | --- |
| N, N-Dimethylglycine HCL (Vitamin B15) | 60 mg |
For animal consumption only. Follow label instructions. Not meant to treat or cure illnesses. Consult with a veterinarian in case of pre-existing conditions or if pet is currently under medical treatment.
---
We Also Recommend