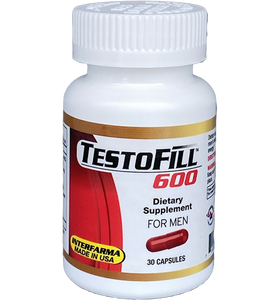 Testofill 600
30 capsules
Sexual Health Supplement for Men 
Product Description:
Testofill 600 supplement is specially formulated to support men's sexual health. Enriched with a full spectrum of ingredients, Amino acids and Vitamins to help Boost Energy, Stamina and Circulation like Maca root powder, L-arginine, Saw Palmetto and many, many more that were carefully chosen to complement each other in such a way that it provides a totally natural and effective solution for lack of proper circulation as well as low testosterone levels. Improving circulation may enhance your sex life by boosting libido and increasing circulation with the help of Testofill 600!*
Active Ingredients for Sexual Health in Testofill 600 :
Maca is full of vitamins, including B1, B2, C, and E. It also contains calcium, zinc, iron, and essential amino acids. A study published in the journal Androligia  has shown that men taking Maca after eight weeks have seen a rise in their sexual desire. After 12 weeks, the men experienced a significant boost in their sexual performance. The strongest evidence is that Maca may increase sperm count and improve fertility in certain men.
Gingko Biloba & Ginseng enhances the effects of Nitric oxide which helps to relax artery walls, allowing more blood flow into the penis.
Damiana helps to alleviate these symptoms of erectile dysfunction by increasing blood flow to the genital area during sexual stimulation, facilitating erections. Stimulating testosterone, the hormone behind men and women's sex drives, helps to restore sexual desire and performance.
Pygeum Africanum & Saw Palmetto work well together to improve prostate health and nightly urination.
Benefits of Testofill 600:
Enriched with B vitamins, Amino acids, and antioxidants for stamina and energy.
Includes Tribulus terrestris which increases the body's natural testosterone levels.
Renew sexual vitality & boosts libido
For mild erectile disorders.
Maca, Saw Palmetto, L-Arginine, Korean Ginseng plus Multivitamins
Directions for Use:
Adults: Take 1-2 capsules daily, preferably with a meal.
Supplement Facts
Serving size: 1 Capsule
Servings Per Container: 30
One (1) capsule provides:
| | |
| --- | --- |
| L-Arginine HCL | 600 mg |
| Tribulis Terrestris | 10 mg |
| Saw Palmetto 45-55% | 405 mg |
| African Pygeum extract 4:1 | 15 mg |
| Korean Ginseng | 5 mg |
| Gingko Biloba 24% | 20 mg |
| Damiana | 15 mg |
| Maca | 25 mg |
| Vitamin A (acetate) | 1000 IU |
| Vitamin E | 10 IU |
| Vitamin C | 10 mg |
| Vitamin B-1 | 1.22 mg |
| Vitamin B-2 | 1.02 mg |
| Niacinamide | 5.07 mg |
| Vitamin B-6 (Pyridoxine) | 2 mg |
| Vitamin B-12 (Cyanocobalamin) | 0.003 mcg |
| Biotin | 0.015 mcg |
| Folic Acid | 0.085 mg |
| Zinc gluconate | 10 mg |
Caution:
Keep out of the reach of children.Consult your healthcare professional before taking any dietary supplement. People with known hypersensitivity or allergies to any of the ingredient should not use. Do not exceed the recommended suggested serving size. 
*These statements have not been evaluated by the Food and Drug Administration. This product is not intended to diagnose, treat, cure or prevent any disease
---
We Also Recommend