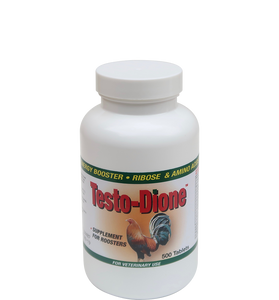 Testo-Dione
500 tablets
Amino Acid supplement for  roosters and chickens 
Product Description:
Blend of Amino Acids supplement for Roosters and Chickens
Benefits of Testo-Dione:
Fortified with Minerals and Amino Acids.
For young and adult Roosters as well as chickens.
12 Amino acids.
Plus Calcium, Magnesium & Phosphorus.
Directions for Use:
Oral, Administer by hand just prior to feeding or crumble and mix with food.
Young roosters & Chickens: 1/2 tablet per 1 lb of body weight every 4-5 days
Adult Roosters: 1 tablet daily for 2 weeks
For animal consumption only. Follow label instructions. Not meant to treat or cure illnesses. Consult with a veterinarian in case of pre-existing conditions or if pet is currently under medical treatment.
Supplement Facts
One (1) tablet provides:
| | |
| --- | --- |
| L-Glycine | 2.0 mg |
| L-Glutamic Acid | 0.5 mg |
| Creatine | 5.0 mg |
| L-Methionine | 2.0 mg |
| L-Tryptophan | 0.5 mg |
| Ribose | 2.0 mg |
| L-Aspargine | 0.5 mg |
| L-Cystine | 0.5 mg |
| Orchic Extract | 2.5 mg |
| L-Histadine | 0.5 mg |
| L-Phenylalanine | 0.5 mg |
| Bentonite | 5.0 mg |
| L-Alenine | 0.5 mg |
| L-Arginine | 0.5 mg |
| L-Lysine | 0.5 mg |
| L-Leucine | 0.5 mg |
| L-Glynine | 0.5 mg |
| Stearic Acid | 9.0 mg |
| Phosphorus | 36 mg |
| Calcium Sulphate | 200 mg |
| Magnesium Stearate | 3 mg |
---
We Also Recommend