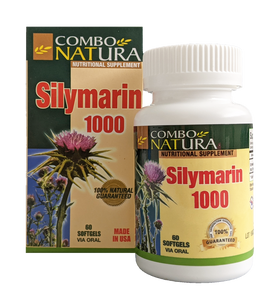 Silymarin 1000
60 softgels
Detox, Liver protector, Stimulates digestion
Product Description:

Milk Thistle has many names like Silybum marianum, Mary thistle, holy thistle and Silymarin.  It is a pretty plant with a long, thin stem, spiny leaves, and a purplish-pink thistle at the top. Native to the Mediterranean, Milk Thistle has been used for hundreds of years for its medicinal properties and health benefits and has continued to be used today as one of the best herbs to support healthy liver function.
A well-studied plant, its powerful antioxidant properties can help protect the liver from the damages of toxins like alcohol, prescription medicines and processed foods. The main component to the plants seeds is called Silymarin, studies show that silymarin may help ease inflammation and promote cell repair.  Its beneficial anti-inflammatory properties may ease the symptoms from liver diseases like jaundice, cirrhosis and fatty liver disease.*
One soft gel capsule provides 1000 mg of Milk Thistle extract. The softgel form is easily digested and dissolves within minutes of reaching the stomach.
Benefits Silymarin 1000:
Promotes heart health by lowering cholesterol.

Supports healthy cholesterol and blood sugar levels.

Helps to protect the liver against toxins, fatty build up, or over consumption of alcohol.

Promotes the growth of new liver cells.

Helps to detoxify the body.

Protects from fatty build up in the liver

It gently stimulates the liver, supporting healthy digestion.
Directions for Use:
Take (1) one soft gel daily.
Supplement Facts
Serving size:  One (1) Soft gel
Servings Per Container: 60
One (1) soft gel capsule provides:

Silymarin 


Milk Thistle Extract            

1000 mg
*This statement has not been evaluated by the Food and Drug Administration. This product is not intended to diagnose, treat, cure or prevent any disease.
Caution: If you are pregnant or nursing, taking any medications or have any medical condition, consult with you doctor before use. Avoid taking if you are allergic to ragweed or daisy-like flowers. Discontinue use and consult your doctor if any adverse reactions occur. Keep out of reach of children.
---
We Also Recommend