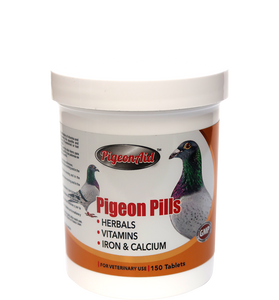 Pigeon Pills
150 tablets
Herbals / Vitamins / Iron / Calcium supplement for pigeons
Product Description:
Pigeon Pills contains a selected combination of B- Vitamins, Minerals & Herbs to benefit healthy growth, digestion and metabolism of carbohydrates, proteins and fats. B-complex vitamins also help the body respond to stress, which makes them essential when your bird breeds, molts, or is ill. B-complex vitamins need to be included in your bird's diet on a continual basis for optimal health and development.
Benefits of Pigeon Pills:
Stimulates Appetite
Enriched with Iron
Vitamin B Complex
Promotes Recuperation
Directions for Use:
Feed one (1) tablet daily for 15 days. Repeat if necessary.
Supplement Facts:
One (1) tablet provides:

| | |
| --- | --- |
| Vitamin B1 (Thiamine Mononitrate) | 1.5 mg |
| Vitamin B2 (Riboflavin) | 1.7 mg |
| Vitamin B3 (Niacinamide) | 3.0 mg |
| Vitamin B6 (Pyridoxine HCL) | 2.0 mg |
| Ascorbic Acid | 60 mg |
| Folic Acid | 200 mg |
| Ferrous Fumarate | 5 mg |
| Gentian Powder | 15 mg |
| Ginger Root | 15 mg |
| Anise | 15 mg |
| Microcrystalline Cellulose | 200 mg |
| Magnesium Vegetable Stearate | 7 mg |
| Silicon Dioxide | 5 mg |
For animal consumption only. Follow label instructions. Not meant to treat or cure illnesses. Talk to your veterinarian in case of pre-existing conditions or if pet is currently under medical treatment.*
---
We Also Recommend