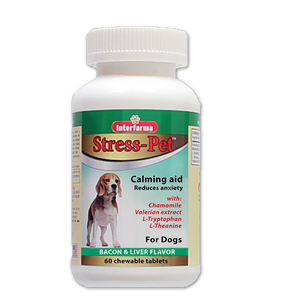 Stress Pet
60 chewable tablets
Natural calming aid, reduces anxiety in dogs
Product Description:
Stress-Pet Supplement is a Natural way to helps to calm and relieve stress in dogs. Give Stress-Pet to your hyper dog when friends or family come to visit.  Help calm your dog when in stressful situations like Veterinary visits. Your dog can feel more calm because of the Chamomile, Valerian extract, L-Tryptophan, L-Theanine and Vitamin B-6 in Stress-Pet which work  together to relax your dog naturally.
Benefits of Stress-Pet:
Natural way to reduce stress & anxiety
Helps manage stressful situations such as: Veterinary visits, Fireworks, thunder, long car rides, loud parties, baths etc.
Useful for post – surgery periods where the dog should maintain calm during recuperation.
Bacon & Liver flavor your dog will enjoy!
Safe for all dog breeds
Directions for use:
Feed directly or mix with food.
Dogs under 10 lbs:  ½ tablet a day
Dogs between 10 -25 lbs: 1 tablet a day
Dogs larger than 25 lbs: 2 tablets a day, in divided doses
For best results: Give approximately 20 minutes before any stressful event. Give with food.
Supplement Facts
One (1) chewable tablet provides:
| | |
| --- | --- |
|  Valerian extract | 100 mg |
| Chamomile extract | 120 mg |
| L-Tryptophan | 10 mg |
| L-Theanine | 10 mg |
| Vitamin B6 | 10 mg |
For animal consumption only. Follow label instructions. Not meant to treat or cure illnesses. Consult with a veterinarian in case of pre-existing conditions or if pet is currently under medical treatment.
---
We Also Recommend