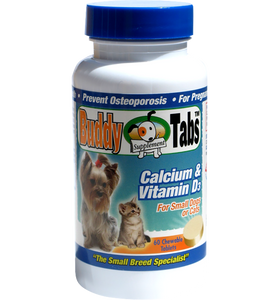 Buddy Tabs Calcium & Vitamin D3
60 chewable tablets
Calcium plus Vitamin D3 supplement for small dogs
Product Description:
Buddy Tabs Calcium & Vitamin D3 plus Phosphorus is a tasty chewable supplement especially formulated to promote strong bones and teeth in small dog breeds.  As most know, Calcium's main function is in the formation of bones and teeth but Calcium also plays an important role in other body functions such as: neuromuscular, cardiovascular, immune and endocrine function in the body; Promoting good overall health for your dog.  The formulation and smaller size tablet of Buddy tabs supplements are suited to meet the needs of all types of small dog breeds. 
Benefits of Buddy Tabs Calcium & Vitamin D3:
Vitamins D3 is essential for Calcium absorption in the body.
Liver flavored tablets your dog will think it's a treat.
An excellent supplement for pregnant and lactating females.
May also be used during healing of bone fractures.
Prevention of Calcium & Phosphorus deficiencies.

Phosphorus is also an essential nutrient for forming bones and teeth.
Smaller sized tablet made for smaller dog breeds.
Directions for use:
| | |
| --- | --- |
| Under 10 lbs | Feed 1 Tablet daily |
| 12 - 19 lbs | Feed 2 Tablets daily |
| 20 - 25 lbs | Feed 4 Tablets daily ** |
Can mix with food or feed by hand. Most dogs like the flavor!
For pets requiring more than 2 tablets, divide equally in the morning and evening.
Supplement Facts:
One (1) tablet provides:
 

| | |
| --- | --- |
| Calcium | 300 mg |
| Phosphorus | 100 mg |
| Vitamin D | 30 IU |
*For animal consumption only. Follow label instructions. Do not exceed suggested dosage. Not meant to treat or cure illnesses. Consult with a veterinarian before using this product, in case of pre-existing conditions or using in addition to other supplements.
---
We Also Recommend