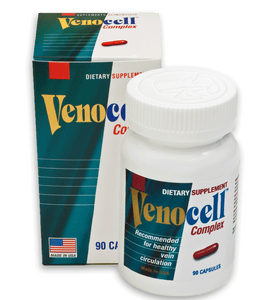 Venocell Complex
90 capsules
Supports healthy vein circulation in legs
Product Description:                                                  

Venocell Complex for Healthy Legs & Veins, provides 7 powerful natural ingredients such as: Horse Chestnut, Citrus Bioflavonoids, Witch Hazel, Hesperidin, Rutin, Gingko Biloba and Vitamin C to maintain excellent Vein circulation in adults. Studies show that the combination of these specific ingredients also may help blood vessels function better and reduce inflammation.*
Benefits Venocell Complex:
Contains 20% chemical Aesin an ingredient known to be used to 

treat a blood

 circulation problem called chronic venous insufficiency.

Helps with symptoms of poor circulation in the legs.
The Flavonoid, Rutin, has antioxidant and anti-inflammatory properties
Witch Hazel helps to strengthen blood vessels and reduces symptoms of varicose veins
Helps to reduce symptoms of poor blood circulation
Directions for Use:
Adults take one (1) capsule three (3) times per day, preferable one hour before meals.
Supplement Facts
Serving size: 1 Capsule
Servings Per Container: 90
One (1) capsule provides:
| | |
| --- | --- |
| Horse Chestnut Extract (Aescin 20%) | 300 mg |
| Rutin     | 25 mg |
| Gingko Biloba Ext 24% (Glycosides)            | 30 mg |
| Witch Hazel Leaf (Hamamelis Virginiana) | 50 mg |
| Hesperidin Complex       | 30 mg |
| Citrus Bioflavonoids         | 60 mg |
| Vitamin C (as Ascorbic acid) | 50 mg |
Caution: If you are pregnant, nursing, taking any medications or have a medical condition please consult your healthcare professional before taking any dietary supplement. People with known hypersensitivity or allergies to any of the ingredient should not use. Keep out of reach of children. Do not exceed the recommended suggested serving size. 
*These statements have not been evaluated by the Food and Drug Administration. This product is not intended to diagnose, treat, cure or prevent any disease
---
We Also Recommend