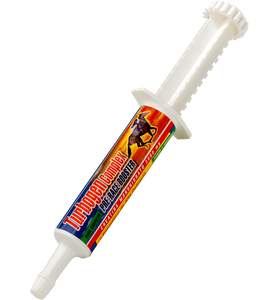 Turbogen Complex for horses
30 cc
Amino acids and electrolytes supplement  for horses
Product Description:
Turbogen Complex supplement provides amino acids, electrolytes, ribose, and minerals in powdered form for horses.
Provides 2000 mg of Creatine plus Minerals, helps to prevent dehydration and increases stamina for optimum performance.
Benefits of Turbogen Complex for horses:
High potency energetic
Includes Creatine, Electrolytes and Potassium for stamina
Apple flavor 
Easy to use applicator
Ribose for muscle recovery
Calcium

 also plays a critical role in muscle contraction, blood clotting and enzyme regulation.
Directions for use:
Give the recommended amount under your horses' tongue:
2 – 3 days before an event/ competition, 15 cc (half the syringe) daily
2 hours before an event /competition, 30 cc (full syringe)
For animal consumption only. Follow label instructions. Not meant to treat or cure illnesses. Consult with a veterinarian in case of pre-existing conditions or if pet is currently under medical treatment. Not for Sale in California.
Formula:

| | |
| --- | --- |
| Creatine | 2000 mg |
| Ribose | 1000 mg |
| Dicalcium Phosphate | 20 mg |
| Magnesium Chloride | 20 mg |
| Sodium Chloride | 20 mg |
| Potassium Chloride | 20 mg |
---
We Also Recommend