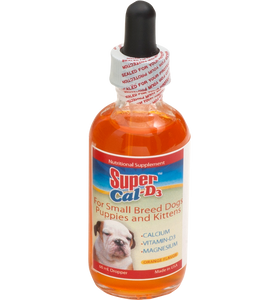 Super Cal D3 for small dog breeds & puppies
2 fl oz
Calcium supplement for healthy teeth and bones in small dog breeds and puppies.
Product Description:

Excellent source of Calcium, Vitamin D3 and Magnesium for puppies and small dog breeds. Super Cal-D3 provides a high concentration of pre-dissolved Calcium for maximum absorption in the body. Supercal- D3 stimulates appetite and helps to strengthen your dogs' immune system. Helpful in the prevention of rickets and other Calcium and Vitamin D deficiencies.
Benefits of Super Cal- D3 for small dog breeds & puppies:
Vitamin D3 and Magnesium are known to improve muscle function.
Helps maintain strong, healthy bones.
Liquid form for better absorption of nutrients.
Easy to use dropper included.
Orange Flavor.
Helps to increase a newborn's survival.
Vitamin D3 helps the body absorb Calcium.
Directions for use:
Given orally: May be fed directly from the dropper or add to drinking water or food.
Puppies: One (1) full dropper per 5 lbs of body weight daily
Adult small dog breeds: One (1)  full dropper per 5 lbs of body weight- twice daily


Supplement Facts
Guaranteed Analysis per Liter:
| | |
| --- | --- |
| Vitamin D3 | 30,000 IU/L |
| Calcium Borogluconate | 40 g/L |
| Magnesium Sulfate | 2 g/L |
For animal consumption only. Follow label instructions. Not meant to treat or cure illnesses. Talk to your veterinarian in case of pre-existing conditions or if pet is currently under medical treatment.
---
We Also Recommend