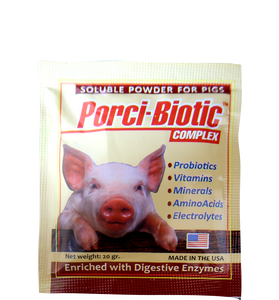 Porci-Biotic Complex
20 gr
Promotes healthy immune system in piglets, pregnant sows and breeding males 
Product Description:
Porci-Biotic Complex soluble powder is enriched with a multitude of Vitamins, essential Amino Acids, probiotics and Minerals for pigs.
This specially designed formula helps support a healthy immune system and digestive system resulting in fewer illnesses and dehydration. Safe for developing piglets, adult pigs, pregnant sows and breeding males.
Benefits of Porci-Biotic Complex:
Provides probiotics which helps to stabilize digestion and stimulates the intestinal flora and better absorption of nutrients of Colostrum.
Enriched with Vitamins A, B2, B5, Biotin, Folic Acid as well as Vitamin C-D-E.
Fortified with minerals: Iron, Manganese, Phosphorus, Zinc and Selenium Includes Amino Acids: L-Lysine, L-Tryptophan, L-Arginine, L-Isoleucine, L-Phenylalanine.
Probiotics included: Lactobacillus lactis, Lactobacillus acidophilus, Bacillus Subtilis and Bifidobacterium bifidum.
Stimulates weight gain.
Directions for Use:
Add to clean fresh drinking water.
For piglets and adults: Dissolve 1 pouch (20 gr.) in 22 gallons of water for 4 -6 days.
For pregnant sows or breeding males: Dissolve 2 pouches (40 gr.) in 22 gallons of water.
Supplement Facts
Guaranteed analysis per 1000 gr:

DIGESTIVE ENZYMES:
Amylase
20,000 DU/lb
Protease
3,000 ASPU/lb
Bromelain
3,500,00 PU/lb
Lipase
4,000 FIP/lb
VITAMINS:
Vitamin A
325,000 IU/lb
Vitamin E
800 IU/lb
Riboflavin
320 mg/lb
Pantothentic Acid
800 mg/lb
Biotin
8,000 mcg/lb
Vitamin C
500 mg/lb
Vitamin D3
40,000 IU/lb
Thiamine
145 mg/lb
Niacin
640 mg/lb
Vitamin B12
320 mcg/lb
Vitamin K
350 mcg/lb
Folic Acid
350 mcg/lb
AMINOACIDS:
Lysine
8800 mg/lb
Methionine
4000 mg/lb
Tryptophan
4000 mg/lb
Arginine
2000 mg/lb
Isoleucine
2000 mg/lb
Phenylalanine
2000 mg/lb
Threonine
6000 mg/lb
Histidine
2000 mg/lb
Leucine
2000 mg/lb
Valine
2000 mg/lb
MINERALS:
Calcium
4000 mg/lb
Phosphorus
4000 mg/lb
Potassium
4000 mg/lb
Magnesium
4000 mg/lb
Cobalt
4000 mg/lb
Iron
4000 mg/lb
Manganese
4000 mg/lb
Selenium
4000 mg/lb
Zinc
4000 mg/lb
Copper
4000 mg/lb
Iodine
4000 mg/lb
Sodium Chlorine
4000 mg/lb
PROBIOTICS: 9 billion colonies per pound of the following probiotic organisms:
Lactobacillus Lactis, Bacillus subtilis, Lactobacillus Acidophilus,
Bifidobacterium bifidum.
For animal consumption only. Follow label instructions. Not meant to treat or cure illnesses. Consult with a veterinarian in case of pre-existing conditions or if pet is currently under medical treatment.