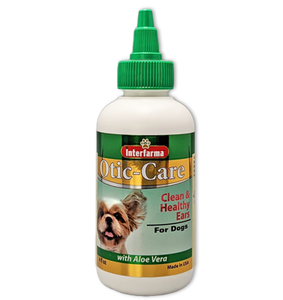 Otic-Care
4 fl oz
Ear cleaner for dogs 
Product Description:
Keep your dog's ears clean with Otic-Care! Our specialized formula is designed to clean away dirt & grime, helping to eliminate bacteria and fungus that may occur in the ear canal.
Benefits of Otic-Care:
Reduces ear odor.
Helps to reduce the risk of ear infections.
Easy to use.
Good for dog breeds that are prone to ear infections.
Directions for use:
Squeeze several drops of solution into the ear canal and gently massage the base of the dog's ear. Do not place tip deep in ear canal. Gently clean excess solution with a clean cotton ball or cloth. Apply 1 -2 times a week.
Formula:

Deionized water
Aloe Vera gel
Polysorbate-20
Benzyl Alcohol
Propylene Glycol
Glycerin
Caprylyl Glycol
Hexylene Glycol
Thyme extract
Phenoxyethanol
Potassium Sorbate
For animal use only. Follow label instructions. Not meant to treat or cure illnesses. Consult with a veterinarian in case of pre-existing conditions or if pet is currently under medical treatment.
---
We Also Recommend