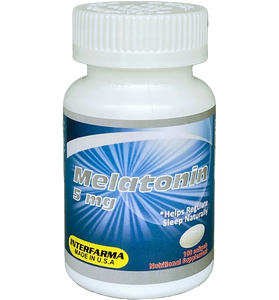 Melatonin 5 mg
100 softgels
Regulates night and day sleep cycles
Product Description:
Melatonin is a hormone produced in our body to regulate our night and day sleep cycles. Using a melatonin supplement has been shown to help people fall asleep faster and stay asleep, experience less restlessness, and prevent daytime fatigue.
Melatonina 5 mg supplement provides Melatonin when you need it most, without the drowsiness of sleeping pills.
Benefits Of Melatonin:
Works well for jet lag.
Safe and effective.
Soft gel capsule for better absorption & faster results.
Directions for Use:
Take 1 soft gel capsule one hour prior to sleep.
Supplement Facts
Servings Per Container:

100 soft gels
Serving size: 1 Soft gel