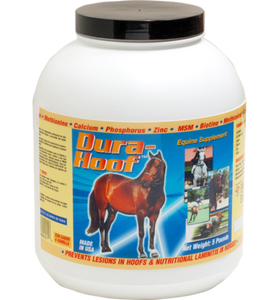 Dura Hoof
5 lbs
Promotes growth of healthy hoof tissue.
Product Description:
DURA-HOOF is a premium quality supplement specially designed to promote growth of healthy hoof tissue in horses. Helps to prevent weak hoof walls, slow hoof growth and cracked hooves.
Provides key nutrients like Biotin, DL- Methionine, Calcium, Phosphorus, Zinc and MSM (Methylsulfonylmethane) to maintain hooves excellent condition.
Benefits of Dura Hoof:
Calcium assists in the creation of sulfur cross-links between hoof proteins that allow for cells to bond. The stronger the bond, the more healthy and impenetrable the hoof.

Amino acid DL-methionine is involved in keratin synthesis, component of hair and hoof.

May be given to horses of all ages.
Vanilla flavor.
Easy to administer, simply mix with daily feed.
1 oz scoop provided for easy dosage.
Feed Additive
Directions for use:
Sprinkle 2 oz. into feed per every 1000 lbs. of body weight daily
For horses with more severe problems it may be given twice a day.
Supplement Facts:
Guaranteed analysis per 5 lbs:
D-Biotin
2,500 mg
DL-Methionine
500,000 mg
Calcium
75,000 mg
Phosphorus
15,000 mg
Zinc
800 mg
MSM
2,000 mg

*For animal consumption only. Follow label instructions. Do not exceed suggested dosage. Not meant to treat or cure illnesses. Consult with a veterinarian before using this product, in case of pre-existing conditions or using in addition to other supplements to avoid overdose.

 

Not for sale in California.
---
We Also Recommend