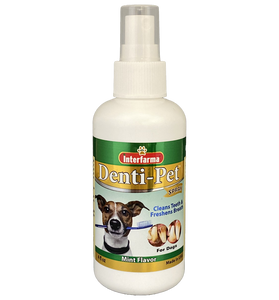 Denti-Pet
4 fl oz
Spray on Dental care- Keeps teeth Clean and helps to control odor
Product Description:

Help maintain your dog's dental health with a simple spray, Denti-Pet! Our blend of natural ingredients such as: Peppermint oil, Grapefruit extract and Thyme oil will help control bacteria, fight bad breath, tartar & plaque; keeping your dog's breath fresh and teeth clean.
Benefits of Denti-Pet:
Safe for all dogs.
Mint flavor.
Easy to use spray.
Keeps mouth clean and breath fresh.
Directions for use:
Spray gently near the gum line 3 times per week as a preventative care.
Spray gently near gum line and on existing tartar 2 times a day for removal of plaque and tartar. Results can be seen in 30 days.
Formula:

Deionized water
Aloe Vera gel
Lecithin
Peppermint oil
Thyme oil
Rosemary oil
Grapefruit extract
Grapeseed extract
Neem oil extract
For animal use only. Follow label instructions. Not meant to treat or cure illnesses. Talk to your veterinarian in case of pre-existing conditions or if pet is currently under medical treatment.
---
We Also Recommend