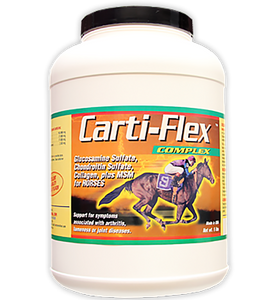 Carti-Flex Complex
5 lbs
Glucosamine, Chondroitin sulfate, Collagen and MSM for horses. 
Product Description:
Carti-Flex Complex is a concentrated supplement enriched with Glucosamine, Chondroitin sulfate, Collagen and MSM for horses. This unique blend helps enhance the natural lubrication of joints, reducing soreness, stiffness and swelling caused by aging, overwork, poor circulation or trauma.
Benefits of Carti-Flex Complex:
Glucosamine exists in cartilage 

and helps create the proteins and fats that repair  cartilage when it's damaged.

Glucosamine helps to maintains cartilage structure and function as well as aids in recovery

Chondroitin 

helps keep cartilage healthy by absorbing fluid (particularly water) into the connective tissue.

Contains a digestible form of collagen called hydrolyzed collagen.

Collagen is a protein responsible for healthy joints.

Easy to administer, 1 oz measuring cup provided.
Noticeable improvement in mobility after 3 – 5 weeks
Vanilla flavor.
Add to feed

Directions for use:
Add the suggested amount based on weight to your horse's daily feed.
For best results, split dosage into two: one dose in the morning and one in the evening.

| | |
| --- | --- |
| 250 lbs - 749 lbs: | 1 oz twice daily |
| 750 lbs- 999 lbs: | 2 oz twice daily |
| 1000 lbs and above: | 2-3 oz twice daily |
Supplement Facts
Guaranteed analysis per 5 lbs:
| | |
| --- | --- |
| Glucosamine Sulfate | 100,000 mg |
| Chondroitin Sulfate | 27,000 mg |
| Hydrolyzed Collagen | 27,000 mg |
| MSM | 2,500 mg |
*For animal consumption only. Follow label instructions. Do not exceed suggested dosage. Not meant to treat, diagnose or cure illnesses. Consult with a veterinarian before using this product, in case of pre-existing conditions or using in addition to other supplements to avoid overdose.
Not for sale in California.
---
We Also Recommend