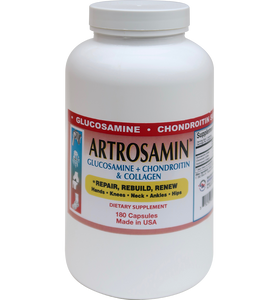 Artrosamin
180 capsules
Promotes mobility in joints, hips, neck and back

Product Description:
500 mg Glucosamine Sulfate, 400 mg Chondroitin Sulfate & 100 mg Hydrolyzed Collagen in Artrosamin creates a powerhouse supplement to help you gain mobility and strength in your joints.  Artrosamin provides ingredients that have been known to help to rebuild joint cartilage and promote joint lubrication  which can help to reduce discomfort caused by arthritis, excessive exercise or injury. *
Benefits of Artrosamin:
Chondroitin Sulfate

 

helps keep cartilage

 

lubricated

 

and

 

flexible.
You will notice a decrease in pain and discomfort and an increase in mobility after 4-5 weeks of use.
Effective for knees, back, arms, neck, hands, feet, ankles, hips and shoulders.
 Collagen is Hydrolyzed, ensuring better absorption by the body.
Supports the growth of cartilage that cushions the joints providing more comfort and ease of mobility.
Directions for Use:
Initial 60 days: Take 1 capsule three times per day with a meal. Reduce dosage to 2 capsules per day after 60 days according to individual needs.
• Recommended daily doses are about 1,500 mg of Glucosamine and 1,200 mg of Chondroitin. For best results: Consistent use for a period of 4-5 weeks is recommended. Take with food.
Supplement Facts:
Serving size: 1 Capsule
One (1) capsule provides:
| | |
| --- | --- |
| Glucosamine Sulfate | 500 mg |
| Chondroitin Sulfate | 400 mg |
| Hydrolyzed Collagen | 100 mg |
| | |
Warning:
Do not use if pregnant or nursing. People who are allergic to shellfish should consider avoiding Glucosamine derived from crustacean shells, a common source. If you are taking any medications or have a medical condition please consult your healthcare professional before taking any dietary supplement. Keep out of reach of children. Do not exceed the recommended suggested serving size. 
*These statements have not been evaluated by the Food and Drug Administration. This product is not intended to diagnose, treat, cure or prevent any disease
---
We Also Recommend