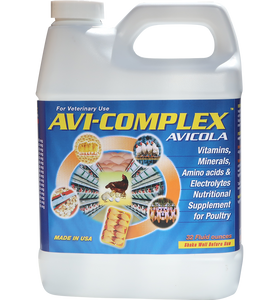 Avi-Complex Avicola
32 fl oz
Product Description:
Avi-complex Avicola is a nutritional supplement for poultry that provides a broad spectrum of Vitamins, Amino acids, Minerals and Electrolytes in liquid form. Our blend of nutrients promotes healthy growth and development for all stages.
Benefits of Avi-Complex Avicola:

Contains Vitamins A, C, B12, D3,E and many more.
Provides 16 Amino Acids.
Mixes easily with water.
Electrolytes to maintain hydration
Useful during times of stress, flock illness, or traveling.
Amino acids are needed to form body protein
Feeding Directions:
For best results, shake well before mixing with water. 
Standard dose: Mix Avicomplex Avicola well with 40 gallons (151.4 liters) of clean drinking water.
When deficiency symptoms are noted: Mix 1 oz with 20 gallons (75.7 liters) of clean drinking water for 5 - 7 consecutive days. return to standard dosage after. Do not exceed recommended dosage or time.
Supplement Facts:

Guaranteed Analysis:
VITAMINS:
Vitamin A
250,000 IU/g
Vitamin D
50,000 IU/g
Vitamin E
200 IU/g
Vitamin C
300 mg
Thiamine (Vitamin B1)
62.50 mg
Pyridoxine (Vitamin B6)
62.50 mg
Riboflavin 

(Vitamin B2)

131.50 mg
Vitamin B12 
312.50 mcg
Biotin
1,563 mcg
Folic Acid
2,190 mcg
Niacinamide
250 mg
AMINO ACIDS: 
L-Lysine
60 mg
DL-Methionine
60 mg
L-Aspartic Acid
60 mg
L-Threonine
60 mg
L-Serine
60 mg
L-Glutamic Acid
60 mg
L-Proline
60 mg
L-Glycine
60 mg
L-Alanine
60 mg
L-Isoleucine
60 mg
L-Leucine
60 mg
L-Tyrosine
60 mg
L-Phenylalanine
60 mg
L-Tryptophan
60 mg
L-Histidine
60 mg
L-Arginine
60 mg
MINERALS:
Calcium Pantothenate
125 mg
Ferrous Sulfate
25 mg
ELECTROLYTES:
Potassium Chloride
250 mg
Sodium Chloride
250 mg
Magnesium Sulfate
250 mg
*For animal consumption only. Follow label instructions. Do not exceed suggested dosage. Consult with your veterinarian before using this product in animals and if using in addition to other supplements to avoid overdose . Not meant to treat or cure illnesses.
---
We Also Recommend