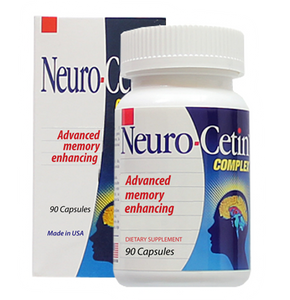 Neuro-Cetin Complex
90 capsules
Advanced Memory Enhancing- For improved concentration and a sharper focus.
Product Description:

Neuro-Cetin Complex provides brain boosting properties from high quality ingredients in our supplement like Vinpocetine, Phosphorus, and Glutamic acid helps for improved concentration and sharper focus.*
Glutamic acid is an amino acid used to form proteins. In the body it turns into glutamate. This is a chemical that helps nerve cells in the brain send and receive information from other cells. Essentially a fuel for the brain. In addition to providing a direct energy source for the brain to function at a high level, this amino acid stimulates mental alertness and improved memory function.*
Vinpocetine enhances cerebral utilization of oxygen and glucose and consequently improves cerebral functions including memory.*
Benefits of Neuro-Cetin Complex:
Helps overcome mild memory loss.
Stimulate concentration and brain energy.
Vinpocetine has effects on brain blood vessels, brain blood
flow, and brain cells by enhancing the delivery of oxygen
and nutrients to the brain.
Glutamic acid protects the brain from the toxic effects.
of ammonia, this protection improves long and
short-term memory.
Increase Blood flow to the brain
Improve memory & thinking skills
Directions for Use:
Take one (1) capsule three times per day, preferably with each meal.
Supplement Facts
Serving size: 1 Capsule
Servings Per Container: 90
One (1) capsule contains:
| | |
| --- | --- |
| Glutamic Acid | 150 mg |
| Phosphorus | 75 mg |
| Vinpocetine | 10 mg |
Caution:  Consult your healthcare professional before taking any dietary supplement. Keep out of reach of children. Do not exceed the recommended suggested serving size. May be unsafe in women who are pregnant or who may become pregnant.
*These statements have not been evaluated by the Food and Drug Administration. This product is not intended to diagnose, treat, cure or prevent any disease
---
We Also Recommend