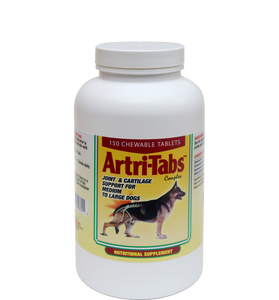 Artri-Tabs Complex
150 chewable tablets
Product Description:
Artri -Tabs Complex has a unique combination of Glucosamine Sulfate, Chondroitin, Hydrolyzed Collagen and MSM (Methylsulfonylmethane) which can contribute effectively to the ease of symptoms related to osteoarthritis in dogs by regenerating articular cartilage affected by degenerative joint disease, aging or injury. 
The most common signs of joint pain dog owners may notice include:
Limping and stiffness.
Frequent slipping while moving.
Licking, chewing, or biting the affected area.
Difficulty getting up and down.
Reluctance to go up and/or down stairs.
Reluctance to jump up or down (onto/off furniture or into/out of a vehicle)
Stiff, swollen, or sore joints.
Benefits of Artri-Tabs Complex:
Tasty Liver flavored chewable tablet, Dogs like the flavor!
Maintains and keeps the joints lubricated.
Notably reduces inflammation and increases mobility.
Alleviate pain and joint wear caused by hip dysplasia
Alleviate symptoms caused by Arthritis 
Aid in the treatment of spinal disc injury
Ease recovery from joint surgery
Keep performance dogs in peak condition
Excellent hip and joint support for senior dogs 
Directions for use:
Feed directly or mix into food. 
Dogs under 20 lbs (9 kgs ) : ½ - 1 tablet daily
Dogs between 20-42 lbs (9-19 kgs):  1-2 tablets daily
Dogs between 43-100 lbs ( 20 – 45 kgs):  2 tablets daily
Divide doses if feeding 2 tablets. For example give 1 tablet in the morning and another in the evening. Recommended to give with food.
*For animal consumption only. Do not exceed recommended dosage. Keep out of reach of children. Consult with your veterinarian before using this product in animals. It is recommended to give with food to reduce stomach upset. Not meant to treat or cure illnesses.
Supplement Facts
One (1) chewable tablet contains:
| | |
| --- | --- |
| Glucosamine HCL | 600 mg |
| Chondroitin Sulfate | 500 mg |
| Hydrolyzed Collagen | 50 mg |
| MSM | 100 mg |
---
We Also Recommend