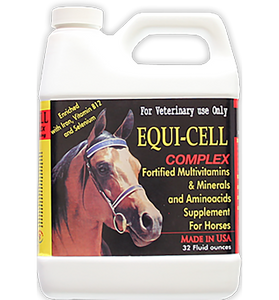 Equi-Cell Complex
32 oz
Blend of vitamins and minerals for horses
Product Description:
Equi-Cell complex liquid supplement is a unique blend of 12 vitamins and 9 minerals in a one easy to administer formula. It provides Iron, B-complex Vitamins, Amino Acids, Multivitamins & Minerals in a highly absorbable and highly palatable liquid form. Simply feed directly to mouth by syringe or into daily feed to supply your horse with extra beneficial nutrients.
Benefits of Equi-Cell Complex:
Easy to administer.
Enriched with Iron & B- complex Vitamins and Selenium.
Highly absorbable liquid Multivitamin.
Amino Acids, Multivitamins, Minerals.
Highly Palatable.
For all classes of horses to keep in peak condition.
Directions for use:
During training: Mix 1 ounce into daily feed ration or feed orally by syringe.
Not in training: Give 2 fluid ounces  one – two times daily.
For animal consumption only. Follow label instructions. Not meant to treat or cure illnesses. Consult with a veterinarian in case of pre-existing conditions or if pet is currently under medical treatment.
---
We Also Recommend